12 Best Adobe Illustrator Alternatives (Free & Paid)
What Is Adobe Illustrator?
Adobe Illustrator
is arguably the most well-known and popular vector graphics editor and design program. The software was made and developed by Adobe Inc.
Adobe Illustrator was first launched in January 1987, a pioneering software that allowed functions not seen before on such a wide-scale platform.
It granted the user the ability of graphic design, font, and logo development. Since then, many improvements have been made, allowing its user an even more comprehensive range of applications. At the time, however, this was ground-breaking.
Initially,
Adobe Illustrator
intended to provide designers and artists with software that could create smooth and curved lines, plus shapes. They managed to do this by harnessing mathematical equations to perfect these lines and curves. They used a system now known as Bezier curves.
Adobe Illustrator offers a wide range of tools and features to artists and designers. The precision and control available are unparalleled. With frequent updates and developments to make their software the cream of the crop, Adobe aims to satisfy its users, creating the best experience.
All in all,
Adobe Illustrator
can help any creative unleash the ideas in their mind and turn them into something visible. From art to blueprints to presentations, Adobe Illustrator works to fit anyone's needs.
Though the average user may be an artist or designer, it is not uncommon for marketers, accountants, and engineers to find the software useful.
It is difficult to find a match on the market, though much new software has come onto the market in recent years.
Adobe is the market leader, but many consumers turn to other alternatives, whether due to price issues or a desire to find software that suits their needs better than Adobe Illustrator.
Even if you are thinking of purchasing this software, it can be useful to look at the Illustrator alternatives to ensure
Adobe Illustrator
is the best option for you.
Important disclosure: we're proud affiliates of some tools mentioned in this guide. If you click an affiliate link and subsequently make a purchase, we will earn a small commission at no additional cost to you (you pay nothing extra).
12 Best Adobe Illustrator Alternatives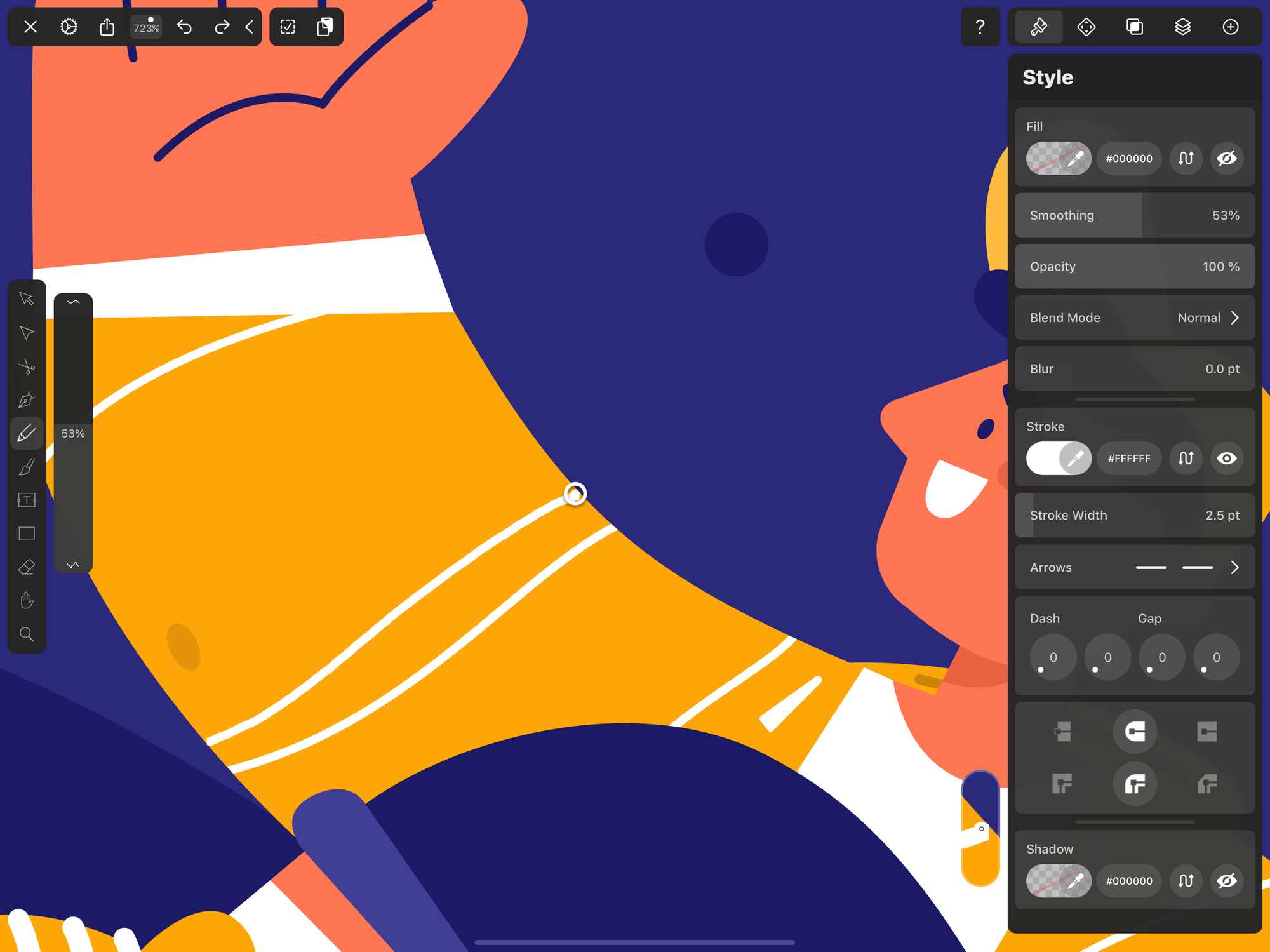 Pricing:
Platforms:
Pros:
Video tutorials available to help users understand how to use every part of the software.
Creative cloud library means users can pick up work on their iPad and desktop.
Offers the highest resolution digital canvas for artists.
Great for social media managing.
Cons:
Only available to Apple users.
Not all file types can be imported and exported.
Not very customizable.
This software is first up on the list of Illustrator alternatives. Vectornator joined the software game in 2017 and has become the most exciting vector graphics software to arrive in the past few years. Providing an excellent service for iPad users, Vectornator also offers an iPhone app.
User designs are saved in the creative cloud library so that you can access them from both applications.
Vectornator offers all the basics and has videos on their websites, helping users understand the software. They offer a neat tool called 'Autotrace' which can make designer's jobs much more comfortable.
The MacOS version of Vectornator lacks the depth of specialized tools that Adobe Illustrator possesses, but for a free program, it stacks up well.
Though Vectornator struggles with importing and exporting all file types, they are aware of this issue and are actively working on it. To keep developing their program, maybe they will one day come to rival Adobe Illustrator in tool availability.
The progress they have made in such a short amount of time suggests they will go on to produce one of the most impressive vector graphics tools in the game. Vectornator is one to look out for in the future even if you don't start using it now.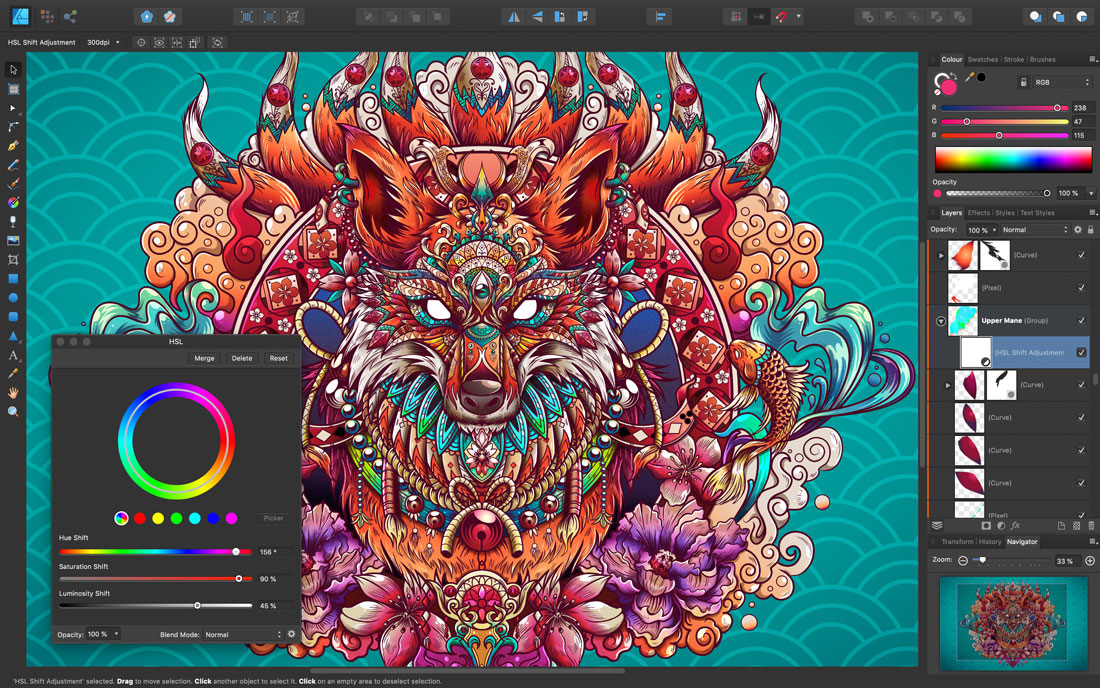 Pricing:
Platforms:
Pros:
Pan and zoom at 60fps.
Real-time blend mode previews.
Can handle thousands of objects with no lag.
Fast response to every control.
Cons:
Lacks a wide range of textures.
Challenging to convert images to vectors.
Lack of a realistic perspective grid.
The multiple strokes and fills option works for only one object at a time.
Affinity Designer is considered one of Adobe Illustrator's biggest competitors. In 2015, it won the Apple Design Award. This came as no surprise. With its smooth, user-friendly interface, artists and designers can genuinely get to grips with detail and depth.
By allowing thousands of objects to be held on a project without lag, artists can achieve unparalleled results. It is best for creating concept art, printing projects, logos, icons, UI designs, mock-ups, and plenty more image designs.
Thousands of professional illustrators , web designers, game developers, and other creative individuals use this software. This is definitely for individuals who love its silky-smooth combination of vector and raster design tools.
Affinity Designer is an excellent alternative to Adobe Illustrator: it offers almost all the same features, but might be a bit more modern and user-friendly. Since it's also available on iPadOS, Affinity Designer is also rivaling Vectornator as a go-to software for those designers who are designing primarily on tablets.
Affinity Designer looks particularly appealing when you consider that the software's price - a single, one-off payment, not a subscription fee - is around the same price as only a month of Adobe Illustrator?
Well, in that case, Affinity Designer seems like a much more cost-effective choice. The two contain an impressive function and style. It is a low-budget alternative yet has comprehensive features, tools, and shortcuts to give you a great illustrating experience.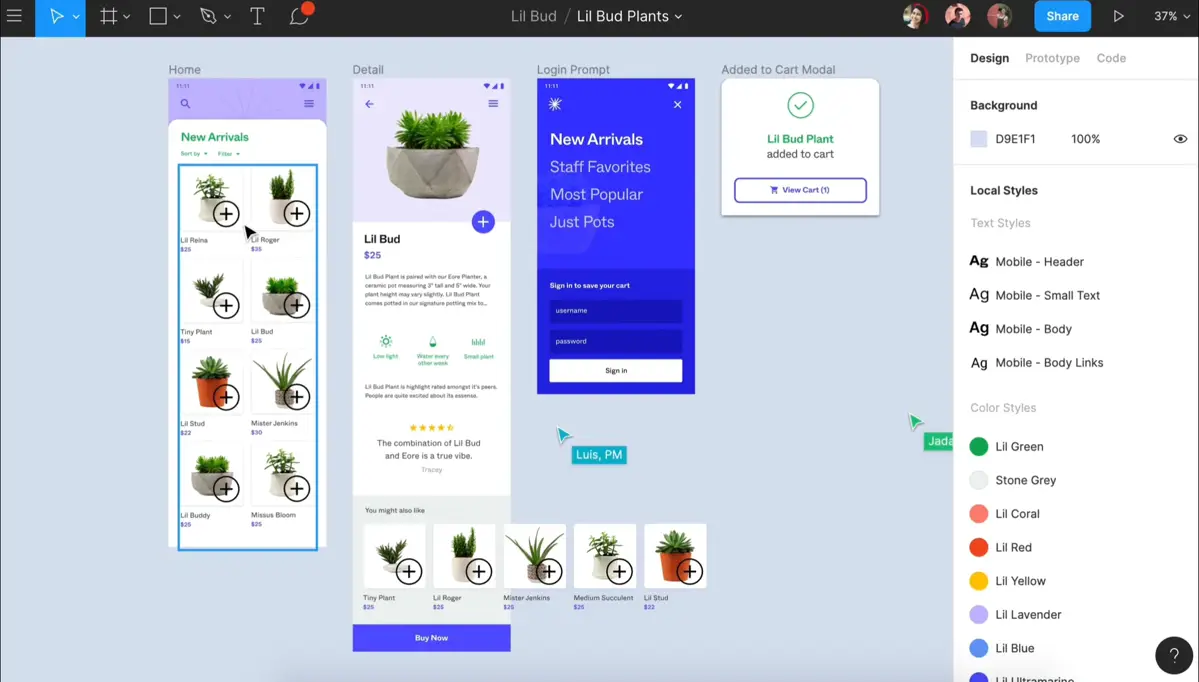 Pricing:
Starter: Free.
Professional: $12 per editor/month.
Organization: $45 per editor/month.
Platforms:
Windows, Linux, ChromeOS, MacOS.
Pros:
Unique tools like the Arc tool and Vector Networks.
Cloud software removes the need for constant saving.
Animated prototypes show artists and designers what their ideas could look like.
All in one tool.
Cons:
Steep learning curve and few resources to understand the software.
Difficulty in zooming in and out.
It needs a RAM and Graphics card to run smoothly.
Figma is a program known to be a collaborative interface design tool. It is a cloud-based design tool that allows one and others to work together on the same file in real-time.
Figma is an excellent choice for those in a professional environment looking to work on projects shared amongst a team.
Figma users can send links to their projects to their colleagues and friends. With this link, multiple people can co-edit the same project simultaneously, making it great for professional workers.
The unique tools Figma offers make it stand out from the crowd. Figma is perfect for those making digital products and those who might need to make icons or other graphic design pieces occasionally.
Figma has many plugins that can be added, making it extremely convenient and flexible for users to use
Figma lacks the advanced tools Adobe Illustrator has, but it is much better at sharing than Adobe Illustrator. If it's just you working, Adobe Illustrator will serve you better than Figma, but groups of designers and artists should go for Figma instead.
For those looking to be challenged, Adobe Illustrator is the choice, not Figma. But those looking to get a job done might be more successful if they turn to Figma.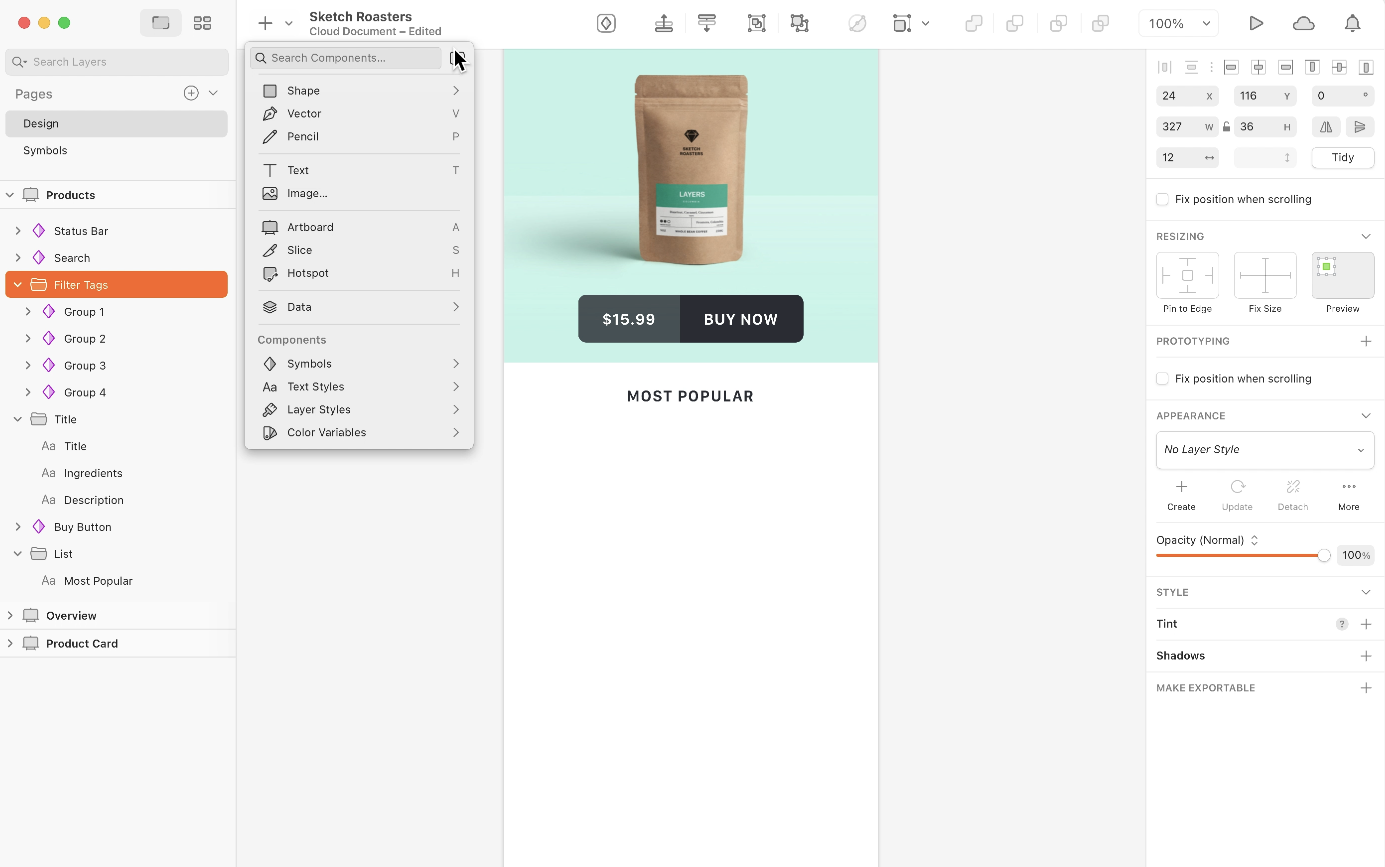 Pricing:
Individuals: $99 one-off payment.
Groups: $9 per contributor/month.
Platforms:
Pros:
Easily shareable; built for teams.
Low learning curve.
Intuitive interface.
Great plugins and integrations.
Cons:
Only available to Mac users.
Lacks the features needed for graphic design/illustration.
No automatic layout flowing options.
No cloud file storage.
Much like Figma, Sketch is perfect for digital designers. Unfortunately, if you're a graphic designer or an illustrator, most likely, you won't find all the features you need. Sketch offers easy collaboration features, making it useful for teams of designers.
With its intuitive interface and clear layout, anyone can learn to use it quickly. The projects are easily shareable, making it perfect for corporate use. Built for teams, Sketch serves to support group projects, whether in illustration or digital marketing materials or sales.
With its low learning curve, anyone can pick up Sketch quickly, once more working well for corporate environments.
The lack of cloud storage can make it dangerous for work environments, however, as frequent backups and saves will be necessary for those looking to work long term.
Similarly, it can't be accessed on multiple devices, so those who like to work on a desktop and the go might not turn to Sketch.
It is no comparison to Adobe Illustrator for graphic designers and illustrators, however. Sketch is suited more to those needing to prototype and create design marketing tools, from logos to icons by lacking some key tools and features.
For those needing to learn quickly, Sketch does have a lower learning curve than Adobe Illustrator.
Choosing between Adobe Illustrator and Sketch simply comes down to what you wish to get out of your software. Do you want something you can learn quickly and use briefly? Or are you willing to put in the time and effort to learn a more challenging program but get a wealth of tools and knowledge out of it?
Depending on your specifications, you may end up with Sketch or Adobe Illustrator, or both.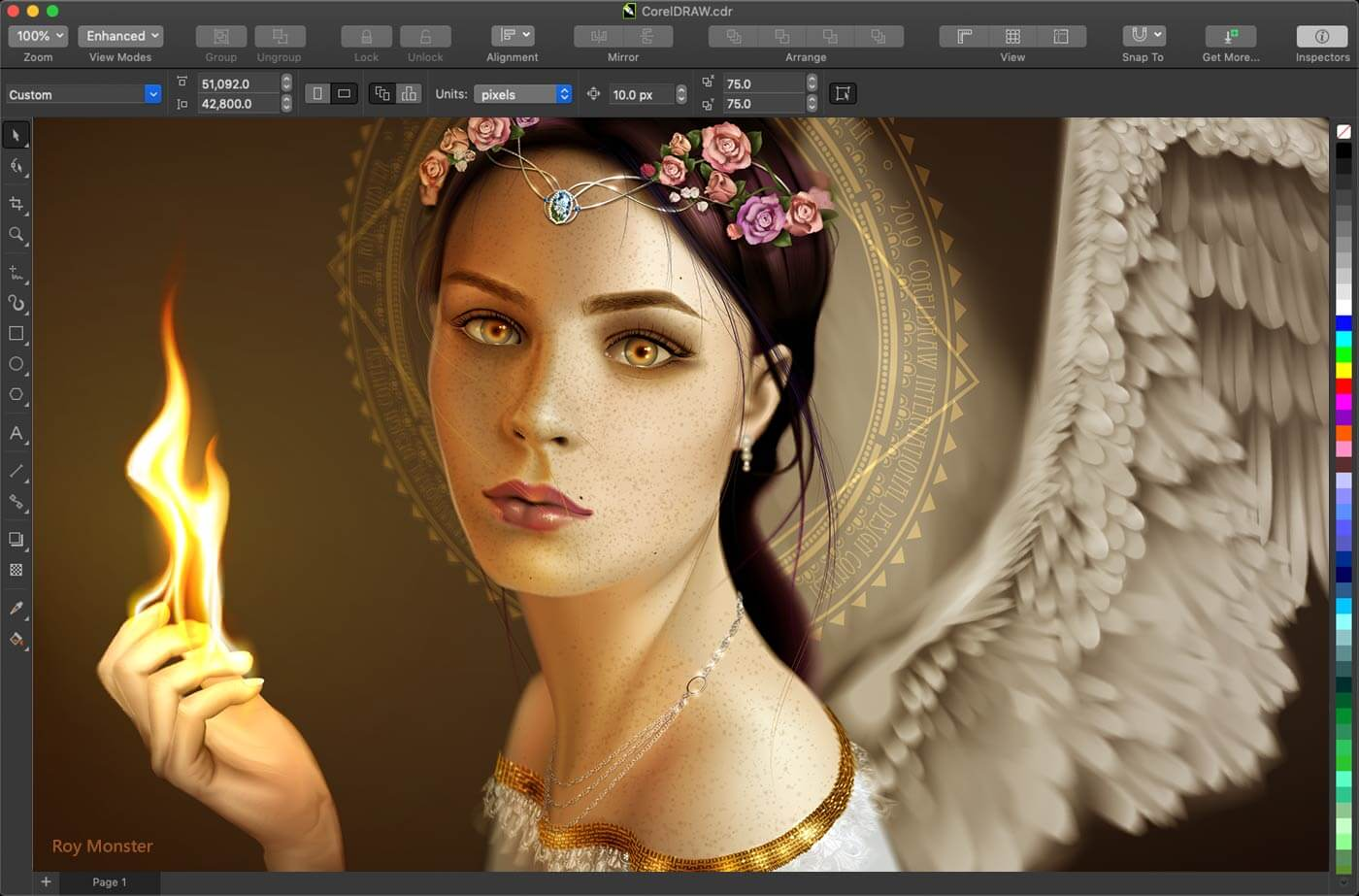 Pricing:
Platforms:
Pros:
Easy to share with contributors and leave feedback on designs.
Wide range of fonts available.
AI PowerTrace tool allows for the bitmap to vector tracing.
Shaping docker gives maximum usage.
Cons:
Image rendering slows down if the volume of data is too high.
Even the smallest errors can be seen when images are enlarged.
Not the strongest when it comes to animation.
The freehand brush is difficult to use.
CorelDRAW boasts several unique features, alongside all the basic and advanced tools any illustrator or designer could want. For one, CorelDRAW is at the forefront of cutting-edge typology technology. With CorelDRAW, you will have access to unique and beautiful fonts for your designs and creations.
Besides great performance, AI-powered image solutions are presented. Its professional design tools are excellent for page layout, typography, and font management.
Photo editing is a plus to retouch colors, fill, and transparencies. When editing, it is nondestructive, customizable and easy to control. With many compatibilities, it can be used for both print and the web.
With a more intuitive interface, CorelDRAW can be better for those just starting in design. It is easier to learn to use than Adobe Illustrator, again making it best for newbies. With its unique tools, CorelDRAW holds up as a real contender for Adobe Illustrator.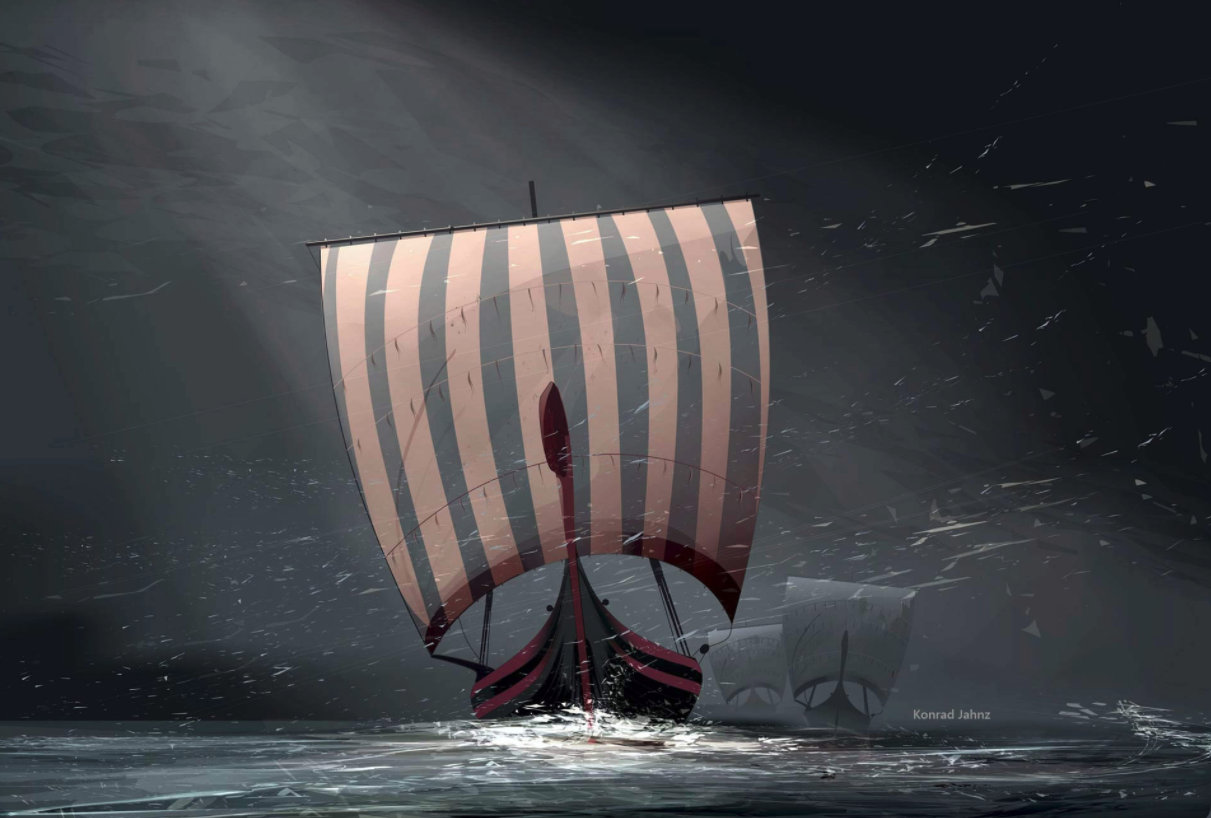 Though Adobe Illustrator has been in the ring for a long time, it wouldn't be surprising if CorelDRAW sees the same kind of longevity.
Both programs are robust due to the many tools they carry to make professional results. Compatibility is excellent as well.
CorelDraw 2021 has capabilities for beginner designers and professionals, allowing individuals at any skill level to jump right into designing.
CorelDRAW has been a leader in the graphic design space for over a decade, enabling them to build advanced training for beginners and great customer support for those just starting out.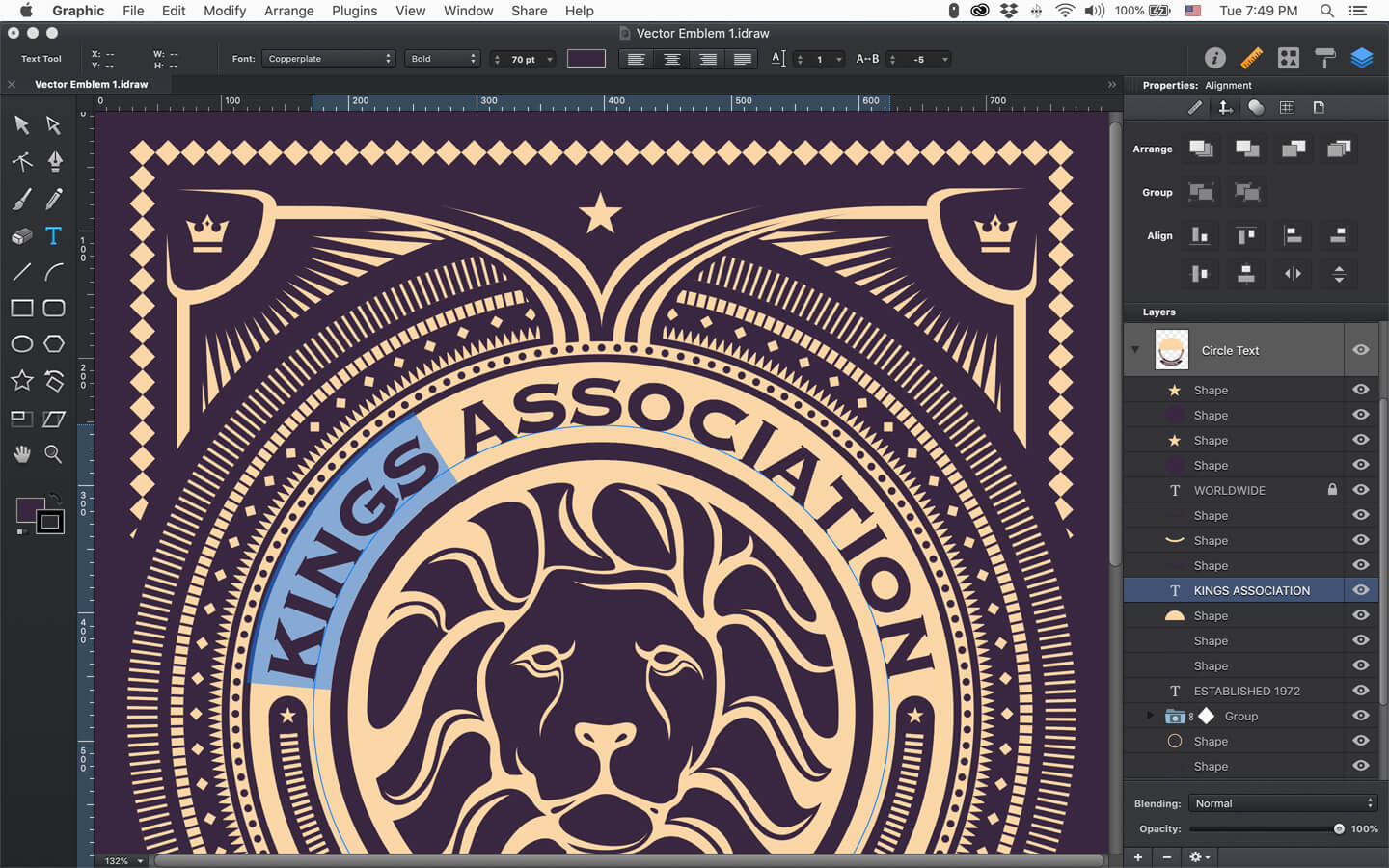 Pricing:
$29.99 for Mac OS. $8.99 for iPad
Platforms:
Pros:
Designed with ease in mind.
Easy import and export of Photoshop PSD, SVG and PDF documents
Can detect the width of brush strokes when using an Apple pencil
Cons:
Only imports the first page of a PDF
Lacks upmarket tools
Isn't regularly updated with new developments.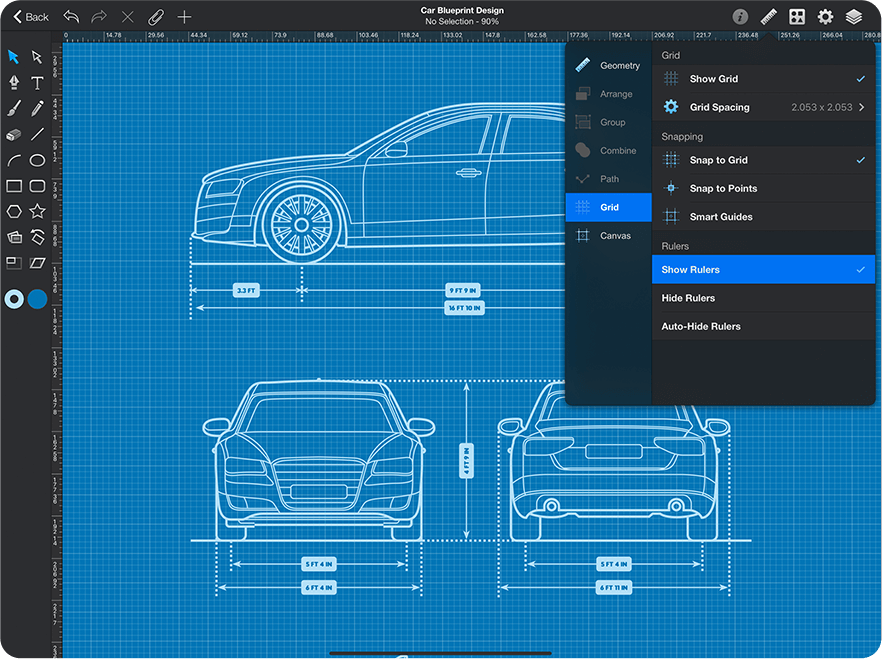 Graphic is a vector-drawing and illustration application for Mac, iPad, and iPhone. With full vector controls and a sensitivity to the Apple pencil, your artwork can be edited, redone, and removed with ease.
Strokes can be widened or thinned, the color changed, and patterned. A full-shaped library and ruler template are available to you, making Graphic perfect for mock-ups and technical design. Graphic comes with its pre-made templates for your use.
You can choose from pixels, feet, inches, or yards, depending on your project's specifications. All of your documents are easily stored, whether you are working on an iPad, iPhone, or Mac, with the ability to download from the Cloud or Dropbox.
The main difference between Adobe Illustrator and Graphic is the ability to import and export external applications easily. In Adobe Illustrator, and SVG file would have to be turned into an EPS file before being imported, Graphic requires no change of file.
This aids you to streamline your work and work on several projects both in and out of Graphic. However, Graphic has been reported as difficult to access.
Some essential tools, like the paint fill tool, are hidden and not easily accessed through the toolbar. This kind of issue is not found with Adobe Illustrator.
Furthermore, Adobe Illustrator is available to both Apple and Android, whereas Graphic is only compatible with Apple. For those who might have an Apple computer but an Android phone, Graphic cannot be moved between both.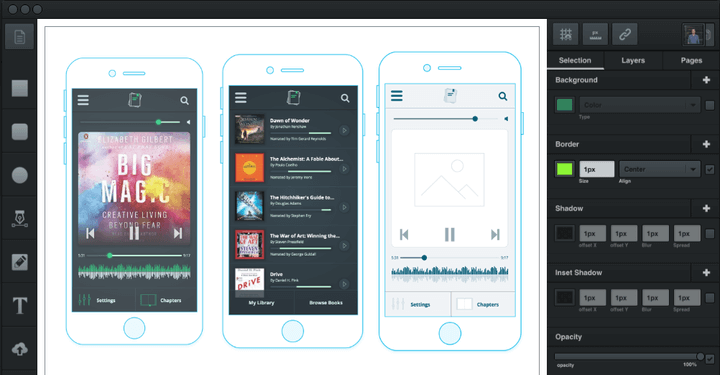 Pricing:
Platforms:
Linux, Windows, Mac OS, Web.
Pros:
Easy to use, so perfect for beginners.
Supports collaboration with easy URL sharing.
Previous designs can be easily imported and worked on in Vectr.
Cons:
Lacks professional features.
Exporting must be done page by page.
Users must have an internet connection to use the software
Vectr is an illustration and design program perfect for beginners. With a more limited selection of tools, the learning curve for this software is quick.
Its free pricing allows those looking to get into design and illustration an excellent starting ground.
However, its limited capacity for professional and advanced features means Vectr would not be a right choice for those looking to do more technical design work.
For those beginning or working on non-design work, Vectr provides scale changes minus clarity loss, live editing with collaborators, and intuitive tools.
By being internet and account-based, Vectr makes all of your designs easy to access and stored in one place. Despite being a download, Vectr is a small file that doesn't take up masses of space on your hardware.
In comparison to Adobe Illustrator, Vectr appears much less professional. The tools available to you in Adobe Illustrator are much more technical and advanced.
Vectr's prime benefit comes in the easy image importing, making it more of an illustration tool than a design-focused software. The specifications necessary for design aren't of the same standard in Vectr as in Adobe Illustrator.
However, Vectr's free pricing and simplification of tools makes it much more accessible to those starting out or who aren't looking to spend much.
It can take a while to understand all the applications available via Adobe Illustrator fully, whereas Vectr can be picked up quickly, getting you designing faster than Adobe Illustrator.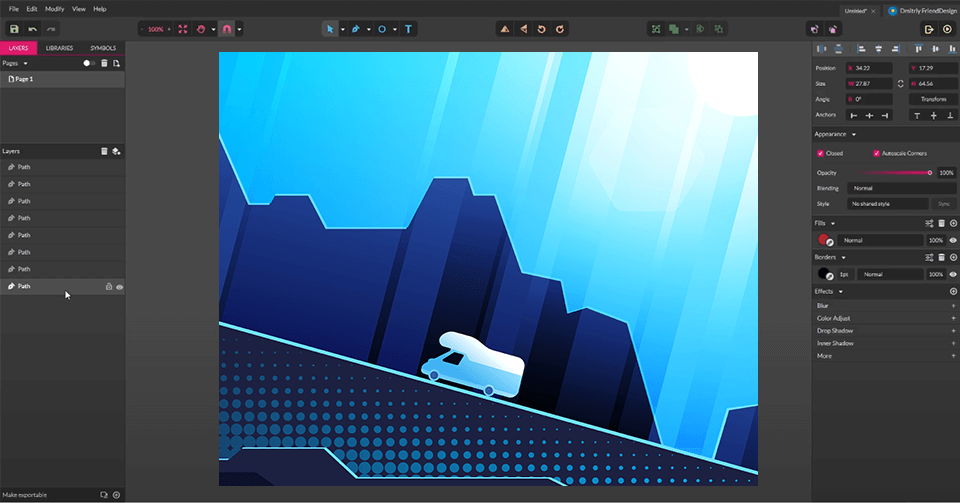 Pricing:
Free, but you can buy Gravit Designer Pro for $49.00 per year.
Platforms:
Windows, Mac OS, Linux, Chrome OS, Progressive Web App, and in-browser.
Pros:
500MB cloud storage
Simple PDF export
Autosaves every five minutes
Easy learning curve
Cons:
Lacks professional and advanced tools
It can't be shared between users
The web app requires an internet connection to work (PRO version allows for offline work)
Gravit Designer is an excellent option for those just beginning to dabble in design and illustration. With helpful videos to explain how each tool is used, Gravit Designer caters to the learner.
With autosave features and lots of space for documents, Gravity Designer will help you explore all your ideas without losing any. Though sharing in-app isn't possible, you can send your designs to collaborators or work on them in separate applications with the easy PDF export.
With frequent updates, Gravit Designer works to benefit its users, hearing their complaints and working to make the software work better for everyone.
Though it lacks professional and advances tools, Gravit Designer is still a great starting place for those looking to get into design. It may not be the best option for veteran designers and artists due to this lack of advanced tools.
When compared to Adobe Illustrator, the lack of advanced and professional tools becomes apparent. Conversely, when Adobe Illustrator is compared to Gravit Designer, it becomes clear how difficult it is to initially understand Adobe Illustrator's program.
The videos provided by Gravit Designer take its user through all the tools available step-by-step. Alternatively, many tools are practically hidden from users in Adobe Illustrator. Plenty of initial research must be done by Adobe Illustrator users to fully use the software.
Plus, the free pricing of Gravit Designer makes it more accessible. By offering Gravit Designer Pro for a fee, those looking to get more out of the program can certainly do so.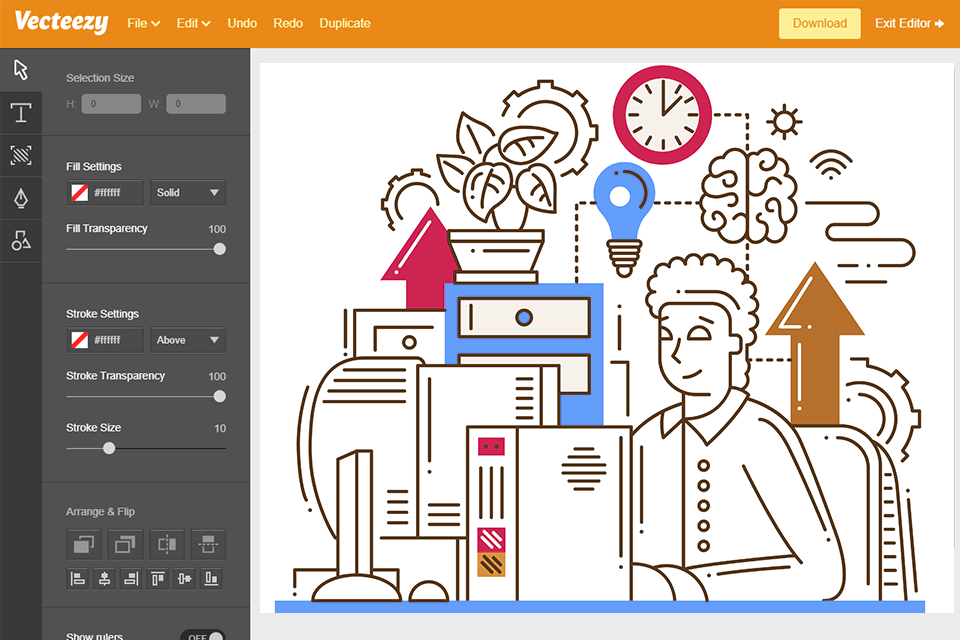 Pricing:
Free. Vecteezy Pro can be bought for $14/month.
Platforms:
Pros:
Access to thousands of free images and templates.
Easily licensed resources for users.
An online community of creators to interact with.
Cons:
Lacks professional tools.
The free version contains lots of ads.
The free version requires credit to Vecteezy.
It doesn't deal well with layers.
Vecteezy is an image-sharing platform that works as a resource for artists and designers. With thousands of free photos available, designers and illustrators should find anything they need - from images to templates.
Alongside the design benefits Vecteezy provides, one of the greatest strengths comes from its community.
Vecteezy has set up a community of designers and illustrators who all use the software. This way, you can talk about your designs and see what everyone else is working on.
Vecteezy might not contain the familiar design tools, but it does provide a wealth of resources, whether image or video, all requiring no licensing. Your imagination can run wild when using Vecteezy.
Adobe Illustrator and Vecteezy are probably the most significant differing software programs on this list. Due to this, there are several points of comparison. To use Vecteezy, you don't need any prior knowledge of editing.
It's easy to use and navigate, unlike Adobe Illustrator, which can be challenging to understand at first. However, this is due to the wealth of tools available to the Adobe Illustrator user - something Vecteezy cannot compete with.
Layering can be difficult in Vecteezy, something Adobe Illustrator is praised for. However, as a cheap and easily accessible program, Vecteezy works well for those not looking for anything serious or difficult.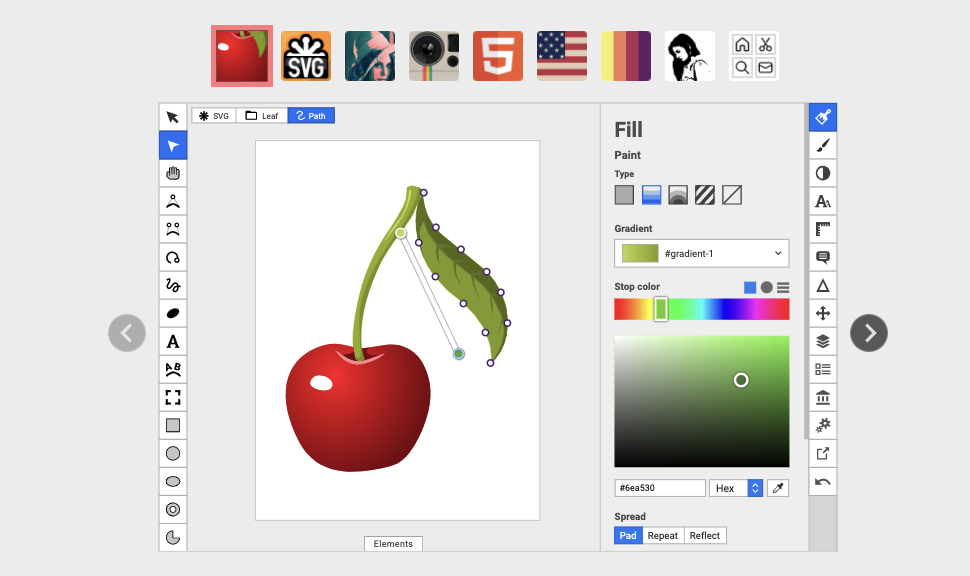 Pricing:
Platforms:
Pros:
Intuitive user interface.
Customizable keyboard shortcuts.
Tutorials available on the website to understand the software.
Cons:
It has to be installed to be used offline.
The standard version doesn't allow SVG files to be exported into PDFs.
Boxy-SVG is a paid illustration and design program that focuses on being user-friendly. It comes with an intuitive interface that clears junk out of the user's way, allowing them to focus solely on the design aspect.
Primarily, all work is done on the 'canvas,' with a single-width toolbar at the side. With customizable keyboard shortcuts, edits can be made swiftly. There is a wealth of tutorial videos explaining how the software can be used for those just taking up Boxy-SVG.
Due to this, Boxy-SVG is incredibly user-friendly and a right choice for beginners. However, due to their lack of advanced tools, it may not be the first choice for a well-trained designer.
The tools Boxy-SVG lacks that Adobe Illustrator provides are 2D drawing, animation, and image tracing. As these are often fundamental for designers, Boxy-SVG might be suited mostly to non-designers.
On top of this, Boxy-SVG's limited capability for exporting files as PDFs might deter people from choosing this software as an alternative for Adobe Illustrator.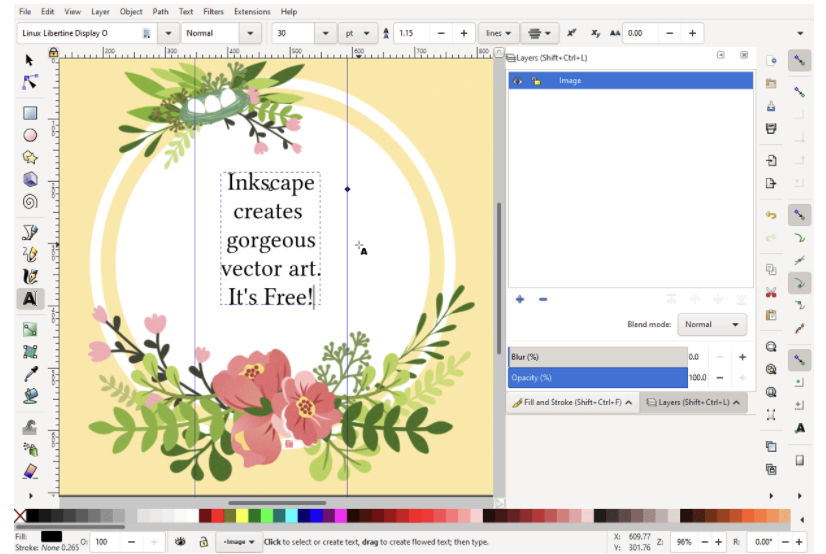 Pricing:
Platform:
Windows, Linux, Mac OS, Android.
Pros:
User-friendly interface.
Simple set-up improves workflow.
PNG, OpenDocument Drawing, DXF, sk1, PDF, EPS, and PostScript export formats.
Advanced tools are available.
Cons:
Steep learning curve.
Text formatting tools are weak.
Freezes when given too much to work on.
Inkscape is an advanced illustration and design program available across most platforms. Though it is challenging to learn quickly, once you've got the hang of Inkscape, you'll fall in love with it.
Inkscape has a wide range of tools available to its users, from the basics up to those advanced tools necessary for professionals.
With its user-friendly interface and many exporting possibilities, Inkscape is an excellent choice for those looking to produce high-quality work and share it with others.
Inkscape is one of the leading alternatives to Adobe Illustrator because it, in many ways, is very similar. Both offer high-quality tools, though Adobe Illustrator does offer a few more. Inkscape wins points back, however, for being more usable than Adobe Illustrator.
However, both are more difficult than most to learn, so it wouldn't be recommended to those just starting out.
When it comes down to it, Inkscape offers almost the exact same service as Adobe Illustrator, but for free. For those who cannot afford the subscription cost of Adobe Illustrator, Inkscape is an excellent alternative.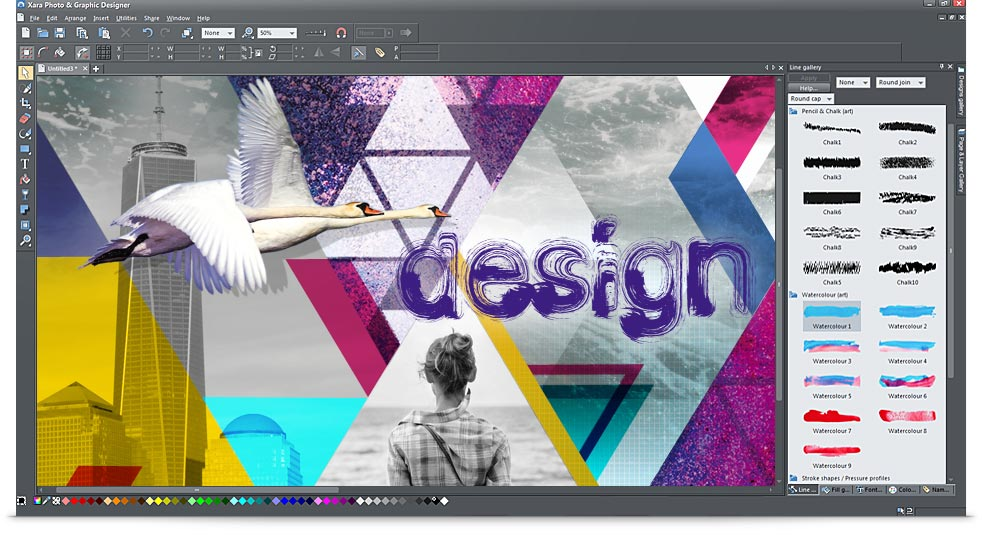 Pricing:
Platforms:
Mac OS, Android, Chrome OS. (An older version is available for Windows).
Pros:
Resizing is easy, with each image being a vector file.
Background editing to a professional level.
The graphics package includes lots of features.
Cons:
The interface can become confusing with all the options.
Steep learning curve.
No tutorials, despite it being a tricky piece of software to navigate.
Xara Photo & Graphic Design offers several packages to choose from, depending on what you want to get out of the software. Each package, however, provides a wide range of tools for design and illustration.
When it comes to editing, Xara Photo & Graphic Design excels in graphics and background editing. Its users have found success, particularly in commercial use, producing flyers, posters, and business cards to market events.
Due to its advanced nature, some have found issues with the learning curve, especially as the software comes with no tutorial on using it.
In comparison to Adobe Illustrator, Xara Photo & Graphic Design holds up well. While not offering the same amount of advanced tools to Adobe Illustrator, a similar amount is offered by Xara Photo & Graphic Design. Their interface may be more confusing than Adobe Illustrator, but they make up for it in price.
Xara Photo & Graphic Design is cheaper - though still not free. A free trial can be used to check whether or not this software works as a feasible alternative to Adobe Illustrator and if you are suited to it.
Which Alternative Should You Use?
Many of these alternatives differ in terms of price, accessibility, and usability. When choosing which alternative software you should choose, you should consider which suits your needs best.
If you are a beginner, look for those with accessible interfaces that aren't clogged up with advanced tools. On the other hand, it's essential for the more experienced designers and illustrators to choose an option that offers you all the tools you need.
Consider compatibility with your lifestyle - if you need to share your work with editors and colleagues, looking for software that shares easily is key.
How do you wish to export your designs? Ensure you are aware of the importing and exporting files available to the software you end up choosing.
Whatever you choose, whether it be an alternative or Adobe Illustrator itself in the end, it's good to be aware of the options in case you decide to choose a different software in the future.